This old Terracotta floor in Shenley Brook End near Milton Keynes was already dirty with very little sealer intact when our customer moved into the property. Then after having extensive building work done throughout the property they were in desperate need of a Tile Doctor service to improve the look of the floor.
Cleaning Old Terracotta Floor Tiles
We started by applying a strong dilution of Tile Doctor Pro-Clean to the floor which is our go to cleaning product for all types of Tile, Stone and Grout. After approximately 20 minutes of dwell time we scrubbed the floor with a black scrubbing pad fitted to a rotary machine. This broke down most of the dirt and removed any remaining sealer. Once the whole floor had been treated in this manner it was rinsed thoroughly with water which was then extracted using a wet vacuum.
Having removed the soiled cleaning solution, we could see the result achieved on the floor and although there was a massive improvement there were some tiles we still were not totally happy with. We went back to these tiles and applied a stronger Tile Doctor product called NanoTech HBU which stands for Heavy Build-Up remover. We gave this an hour to dwell.
Whilst the NanoTech was doing its magic on the problem tiles we went to work scrubbing all the grout lines by hand using more Pro-Clean. Once we had finished cleaning the grout we gave the whole floor one more rinse and were pleased to see the problem tiles were now looking much better.
Sealing Old Terracotta Floor Tiles
We then left the floor to dry off completely overnight and returned the following day to seal the floor. Made from clay Terracotta is very porous and needs to be sealed to stop dirt becoming ingrained in the tile, it also improves its general appearance.
To fully seal the floor, we used six coats of Tile Doctor Seal and Go which will provide complete protection against stains and dirt, Seal and Go also adds an appealing satin sheen to the tile.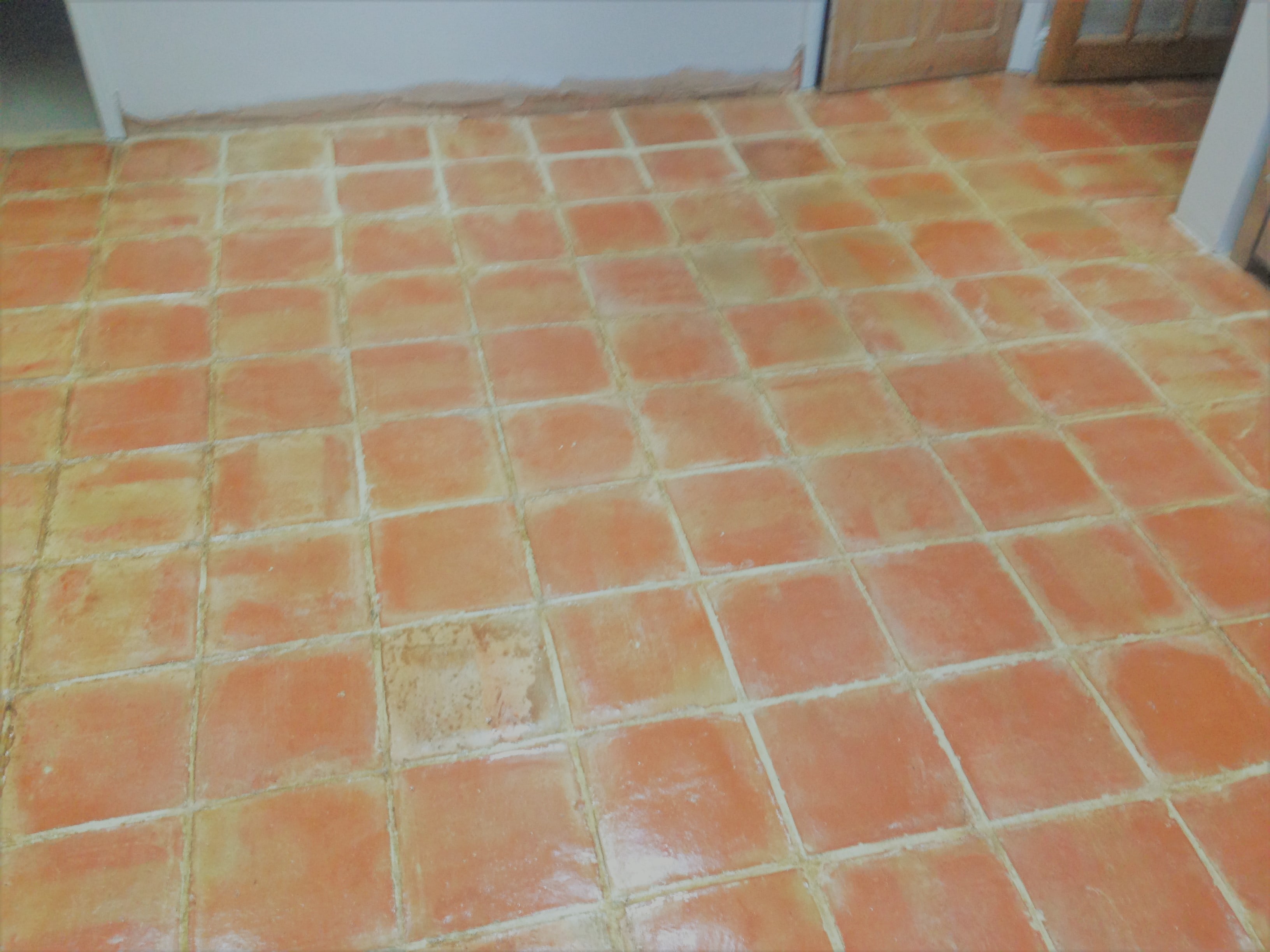 For an old floor that has been exposed to building work it's now looking much cleaner and healthier; more importantly the customer was delighted with the service and left the following glowing review which is always appreciated:
Andrew and his colleagues (including Gemma in the office) could not have been more helpful and courteous. They are some of the tidiest tradesmen we've met! The results have exceeded our expectations and the service is very cost-effective compared to the cost of a new tiled floor, so happy customers all round. Thanks again!
Professional Terracotta Floor Renovation in Buckinghamshire